Ancient temples, wild hyena feedings, the most delicious cuisine in Africa, cheap as chips – now that sounds like a backpackers dream. Welcome to Ethiopia!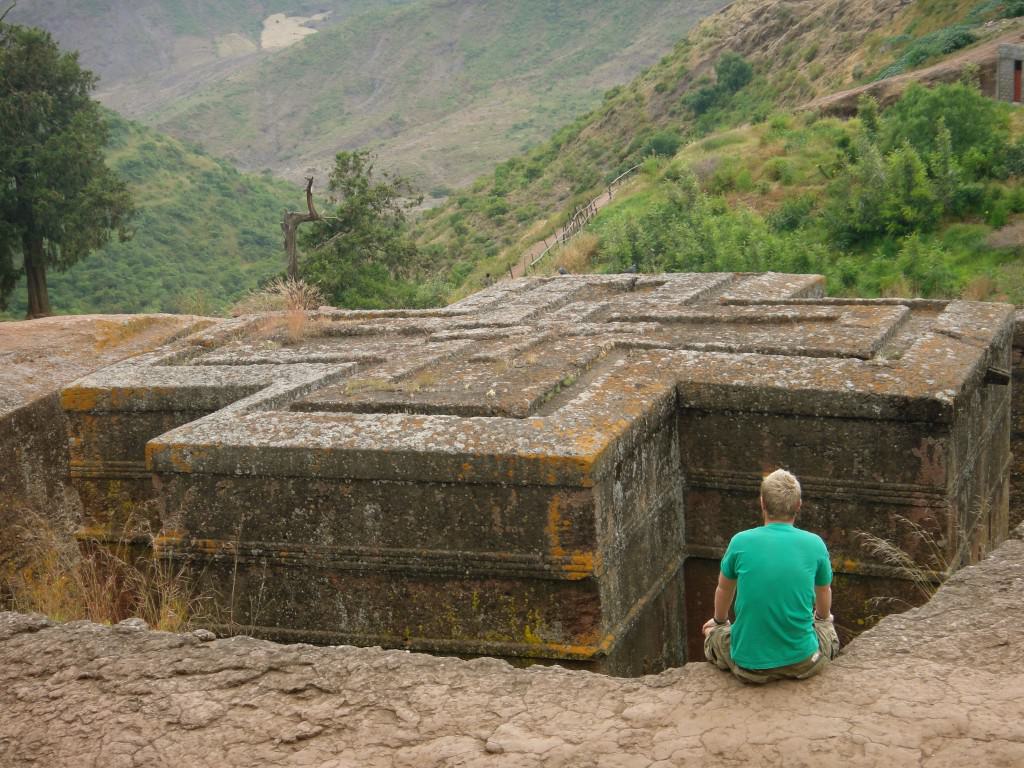 I spent just shy of a month in Ethiopia and even that didn't seem to be enough. Every corner of this amazing country offers great sights and experiences so wherever you venture you're sure not to be disappointed. The only place I'd recommend you don't stay too long is the capital, Addis Ababa. I agree it's a cool sounding name but that's where the coolness ends! Everything is overpriced and it's full of touts, drug-dealers, hookers and general reprobates – only stay as long as you have to. On a brighter note, here are the amazing must-sees in this captivating country.
Harar: Potentially the highlight of my time in Ethiopia. Harar is the Islamic centre of Ethiopia and you can feel the Islamic culture seeping from every nook and cranny. The old town, in the city centre, feels like a time machine. You waltz through the old city gates and you're transported back to the 16th century. Everyone is wearing traditional clothes, English is non-existent (as is electricity seemingly), the alleys are narrow and the buildings ooze character. You can enjoy a day wandering around this mesermizing place for sure.
Then prepare for the evening… The hyena man! Near the old city, a family have passed down the hyena feeding skills for generations so now the 'wild' hyenas flock to his area each evening as he feeds them raw meat. You should pay around $4 for his services. When I was there there were probably 20 hyenas running around and howling, you can even feed them yourself if you're feeling brave, or stupid: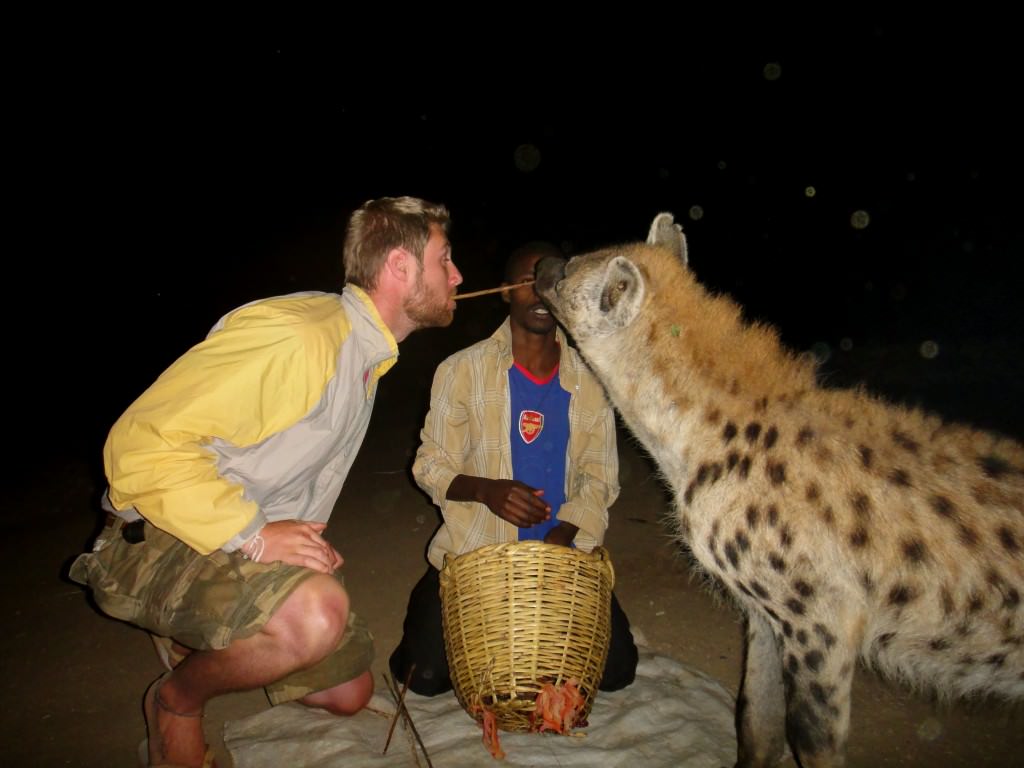 Bahir Dar: Sitting on Lake Tana, the scenery is beautiful. Spend a couple of days here – one of which you can rent a boat for and visit the monasteries on islands on the lake. Half a day is more than enough here because once you've seen a couple, you've seen them all trust me! Well worth a look though.
If you have a second day, jump in the rickety bus or grab a taxi to the Blue Nile Falls – a very impressive waterfall and a great way to spend a day. It's a pleasant walk from where you get dropped off and the waterfall is a sight to behold.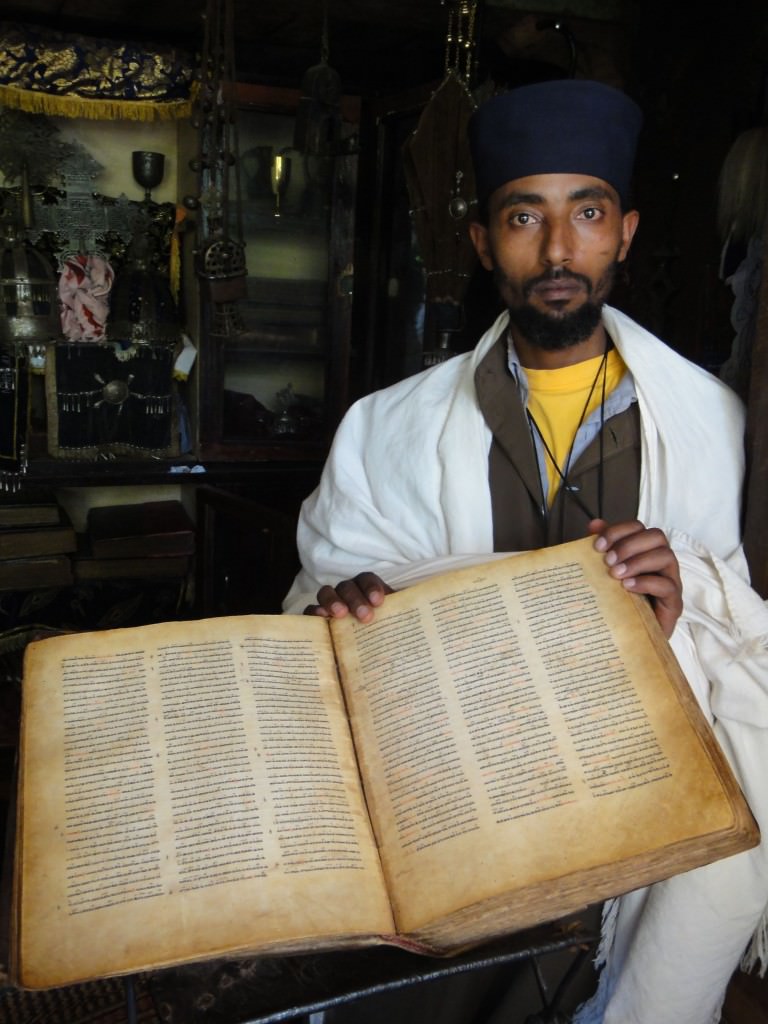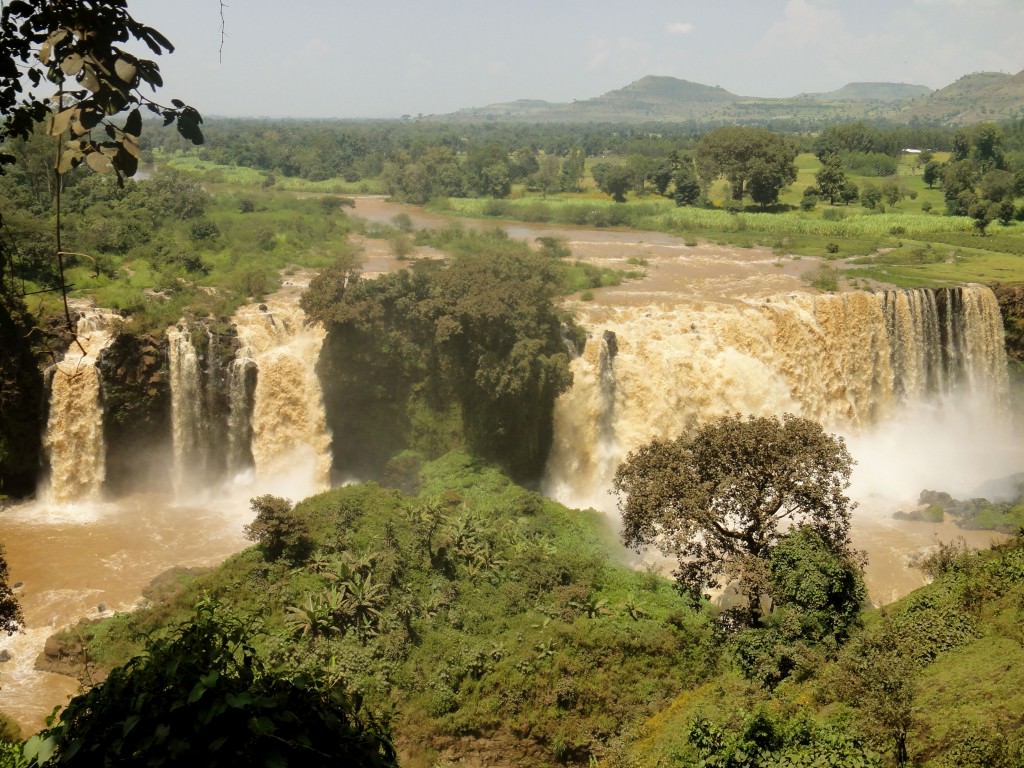 Lalibela: Wow! I'm not going to say too much but get yourself to Lalibela and check out the churches, how I have never heard of this place before I came to Ethiopia must be indicative of my ignorance because Lalibela should be on every tourist map, everywhere. Number 1 attraction in Ehiopia for sure!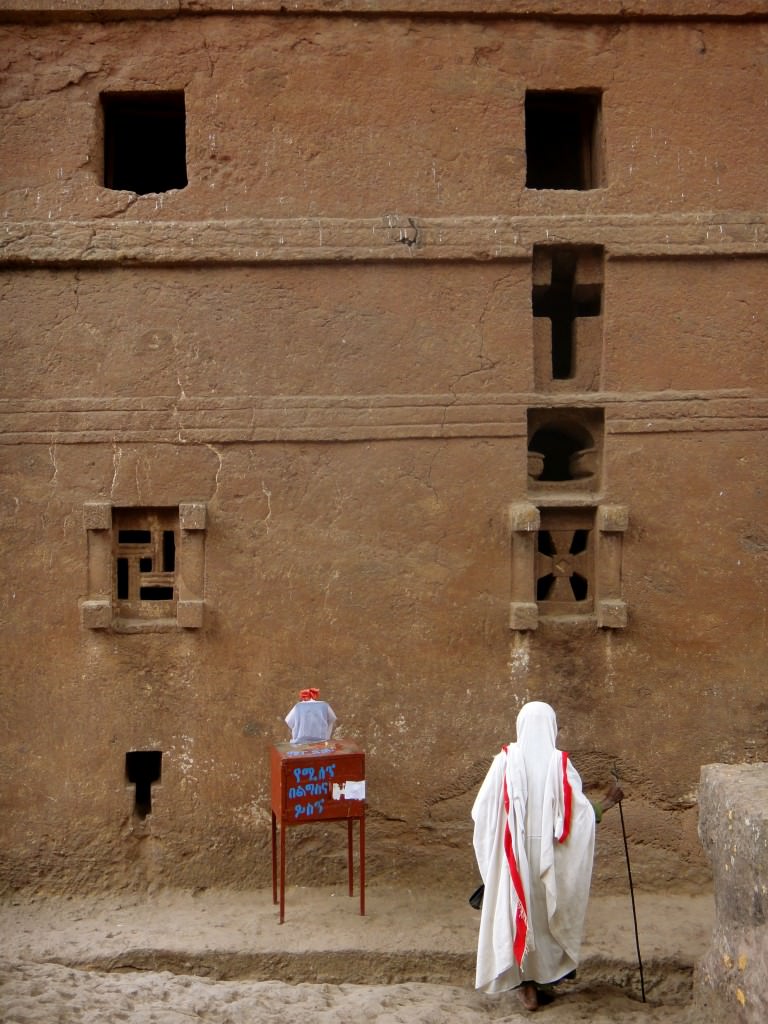 Simien Mountains: The peaks exceed altitude of 4000m so it's not to be sniffed at. Trips can be organized from Addis or Gondar but try not to be tempted by a day trip from Gondar  – realistically it's too far, regardless what your new best friend salesman says. If the budget allows, go for 2 nights/3 days (should costs around $80 with guides, cook etc.) and guarantee yourself a look at the devilish Gelada baboons. The topography is unreal so make sure your camera is charged, you'll be blown away.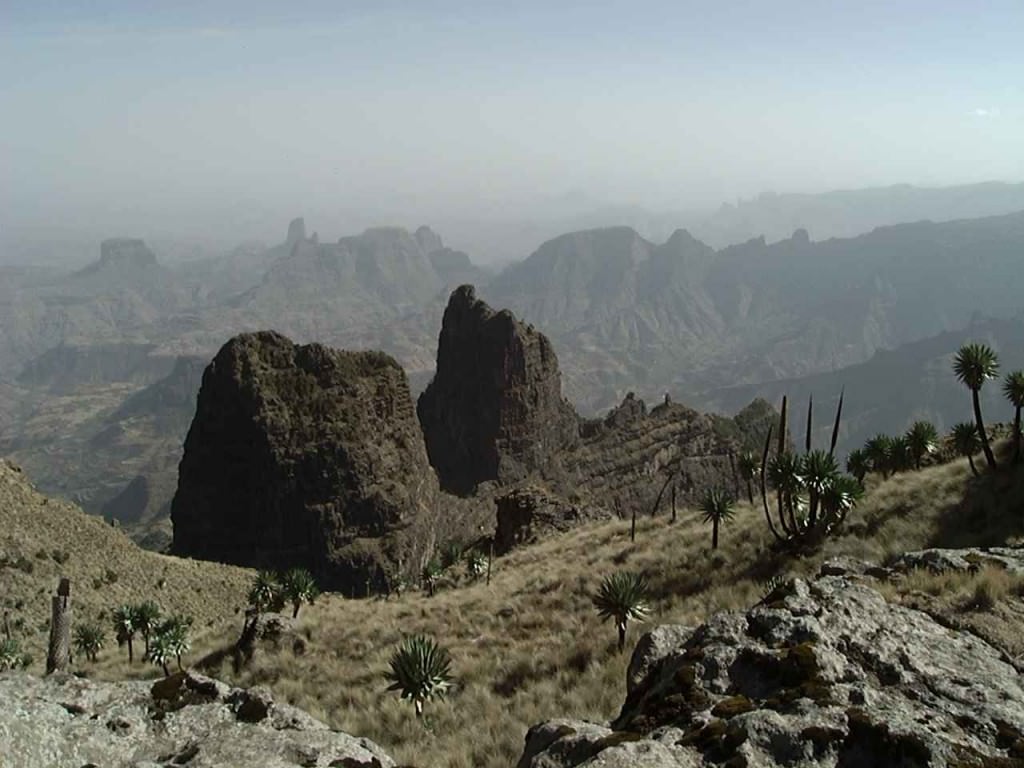 Aksum: UNESCO declared the whole place a World Heritage sight and rightly so. There are endless tombs and ruins to waltz through but for me the highlight should be visiting one of the chapels which allegedly contains the Ark of the Convenant!! One ticket, for about $5 USD, grants you access to most of the city so it's not too pricey but before too long you may feel yourself a little 'templed' out!
Dankali Depression: Expensive, difficult, hot as hell and ridicously amazing! You can reach the lowest point on the entire continent (and if you've summited Kilimanjaro you'll touch the highest and lowest point, pretty cool huh?!). The best (only?) way to do this effectively is to rent a 4WD between a few people or book a tour through when your in Addis. It will end up costing about $150 all in so if, like me, you're on a tight budget it may be beyond your means this time round.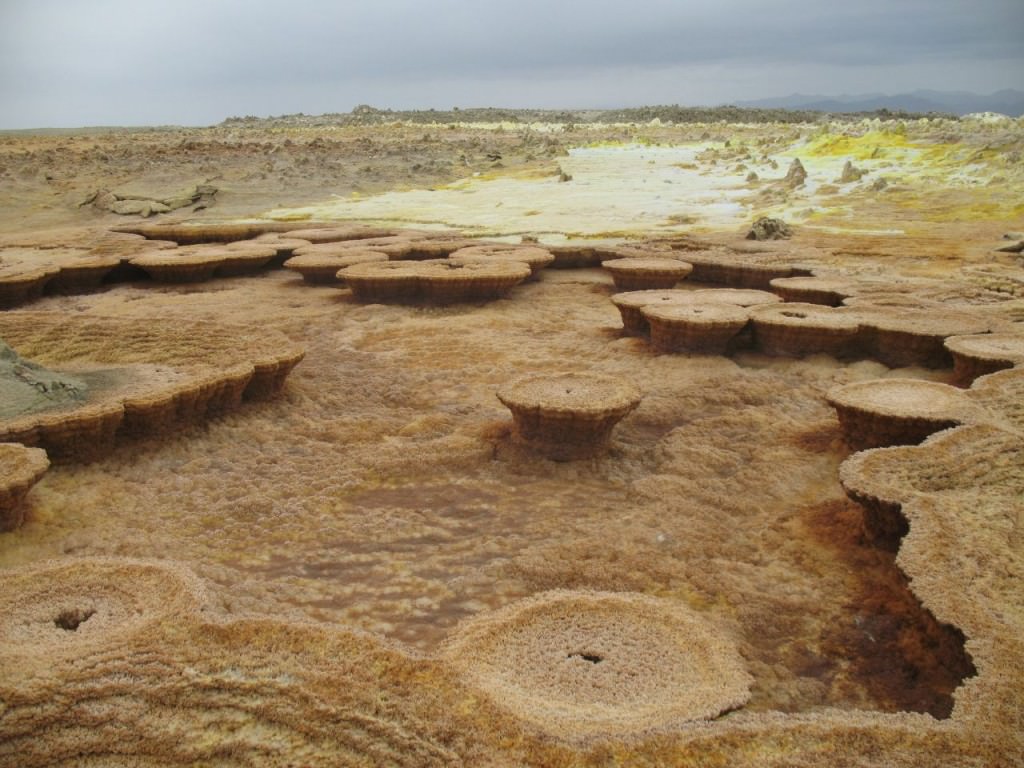 Written by Laura Main, Adventure Travel Consultant In December 2013, I spent two weeks in East Afric
Read More
Last updated on August 27th, 2016 by Daniel Noll When I was growing up, I remember Ethiopia having a
Read More
by Johnny Ancient temples, wild hyena feedings, the most delicious cuisine in Africa, cheap as chips
Read More